In a little over a week, I will be will be headed to Haiti. I know that traveling the world is a privilege and a luxury, but it is not always pretty. In fact, I am already preparing myself for the heartbreaking sights I am guaranteed to see in Haiti. Nearly half of the population in Haiti is currently living in extreme poverty and roughly two thirds of the population is living in "normal" poverty. It is safe to say that the government and international organizations working in country have their hands quite full with fighting inequalities, violence, social exclusion and meeting the most basic needs of their people. Haiti, the poorest country in the Western Hemisphere is located on the island of Hispaniola, sharing a border with the Dominican Republic. Most Haitians are living one day at a time and unfortunately they cannot rely on any form of government support. The catastrophic earthquake in 2010 caused over 250,000 deaths and tragically destroyed the little infrastructure the island had left. Just a few months ago, Hurricane Matthew left this impoverished nation with even more widespread damage.
Negative societal perspectives toward deafness and widespread poverty create a challenging situation for the Haitian deaf people. In developing countries, it is common to view deafness as a punishment or a curse from God, their gods, or family spirits. Haitian parents often struggle to meet the basic needs of their children; having a child with a disability often requires more resources than families are able to provide. The unfortunate reality is that "the majority of children with disabilities remain in the family home, often hidden from neighbors' eyes. Depending on many factors, including the severity of the disability, the income of the family, and the religious beliefs of the family, some will be neglected or left to die" (Grinde 1999). Life is already hard in Haiti, but it is even harder for the countless individuals that are being abused, discarded, and counted as worthless, just because they are deaf. They do not read or write, because it is believed they cannot learn. It is disturbing to consider that many deaf people in Haiti and all over the world have no language, no ability to write or read, and no opportunity to express their thoughts and emotions. They are isolated by society and often times their families.
We here at Hope Signs believe that all people can thrive regardless of how well they hear! We are excited to partner with Southpoint Community Church and Deaf Teen Quest in hosting our 1st Adventure Camp at the Haiti Deaf Academy! The Haiti Deaf Academy was founded in 2013 and is in the center of a large Deaf community that was founded after the earthquake in 2010! This community is known as Lévêque and is in the city of Cabaret. Deaf children from all over Haiti come to the Haiti Deaf Academy to receive an education in a safe and loving environment. The school currently serves about 60 deaf children, most of which come from families that would never be able to afford to send their children to school. Camp will be jammed packed with games, songs, crafts, funny sketches, and truth, but ultimately, we want these precious children to know they are deeply loved and have purpose.
This trip will change me. The people I will meet on this trip will without a doubt leave a mark on my memory, my conscious, and my heart. I want Hope Signs to be fearless in its pursuit of bringing faith, hope, and love to the deaf in Haiti and all around the world. Because of you and your generous support, Hope Signs can continue to invest into the lives of the deaf around the world, giving them the power of identity, community, and love.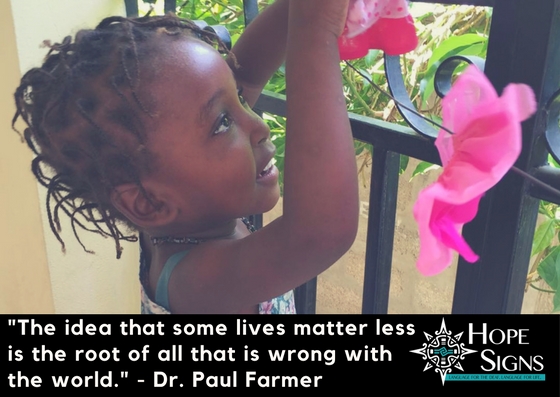 References:
Parks, E. (2011). The Deaf People of Haiti. SIL International.